Convoy 73
Of the seventy-nine trains containing French resident Jewish deportees sent from Drancy between 27 March 1942 and 17 August 1944 only one was directed to the Baltic States, for reasons which remain obscure to this day. The exception was Convoy 73 which left Drancy on 15 May 1944.
The fate of this convoy has remained unknown to everyone, family and historians alike, for fifty years. A handful of the deportees' families were aware that the Convoy was initially sent to Lithuania, and survivors had told how some of them had been sent on to Estonia, but this was the extent of the available information. The majority of the families had no information on the convoy's destination, whilst some had even received from the state bureaucracy fanciful almost inventive death or deportation certificates, certain of which declared with striking certainty that the person concerned had died in " Auschwitz" or even "Auschwitz (Germany)" (sic).
There were precisely 878 of them in the train. Every year, since 1994, on the first Sunday following the 15th of May, their spouses, sister, brothers, sons and daughters, sometimes even their grand-children assemble at Drancy to pay honour their memory, recite the Kaddish and contemplate in private on the past.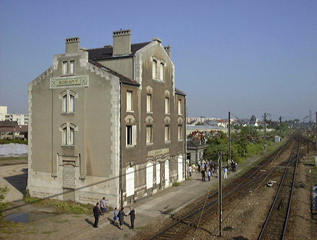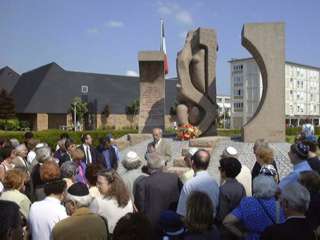 In Drancy, a town in Paris' inner suburbs, there existed, between 20 August 1941 and 22 August 1944, a detention camp in which were interned some 76,000 men, women, children and elderly persons: their crime was to be Jewish.
Children were born in Drancy, others died there, like the poet Max Jacob, and a minuscule number were eventually freed. All the others were deported, principally to Auschwitz, in convoys of approximately 1,000 people each. Only four convoys were sent to Maidanek and Sobibor, another, the last, to Buchenwald and finally one, Convoy 73, which was sent with 878 men to Kovno (now Kaunas) in Lithuania and Reval (now Tallinn, the capital of Estonia) on 15th May 1944.

The rest of their story is told in our book "We are 900 Frenchmen".
---
© Éric & Dominique Blum - echo date("j M Y", filemtime($DOCUMENT_ROOT.$PHP_SELF)) ?>