When the Laks brothers required Aron to visit one of their customers, they would call the local bakery. Giselle would receive the details of the job when she bought bread, and would pass the information on to Aron.
On 25 January 1944, I was born. My parents named me Roland Errol - Roland because it was a French name, and Errol because it was English.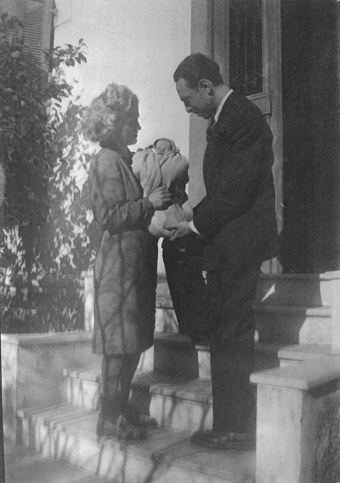 About four weeks after I was born, a message was received from Henri Laks that my father was required to attend to a customer's needs. My mother recalls my father's getting dressed in the morning in time to catch an early tram to the office. They ate breakfast together. She walked him to the tram station as usual, pushing me in the pram. It was a fine morning and they talked as they walked. Urging my father to be careful, my mother pushed the pram along the streets of Nice.
Without warning, the fine weather vanished and a storm blew up. Aron told Giselle to go home so we wouldn't get drenched. He told her when he would be back, and she promised to meet him at the tram station. My mother headed home, not suspecting that she would never speak to her husband again. At the end of the day she went with me to the station to meet Aron. For hours, she waited in vain. As each tram stopped, she frantically searched for Aron. He did not return.
Giselle found out later that while walking to the tram that morning, Aron had been arrested. She believes he was working for the Polish Resistance and that an informer caused him to be arrested. Perhaps his false papers were defective, or he had documents from the Resistance in his possession, or his facial appearance or circumcision led to his arrest. We will never know.
Giselle enlisted the help of Irene Laks, who discovered that Aron had been arrested and was being held in a prison in Nice. He and the other prisoners were to be transported to Drancy. Irene learned that Drancy was a labour camp, and Aron would be there for only a short period. She told Giselle, and advised her to pack some clothes for Aron in a small suitcase.
The streets of France produced one final devastating image that would haunt Giselle for the rest of her life.
My mother managed to find out when Aron was due to leave the police station to board the train to Drancy. She went with me to the train station and lined up with all the waiting relatives and friends of the prisoners. Standing in deathly silence, they watched as their loved ones were forced to march towards the station. My mother turned 90 this year, yet every day she sees Aron walking on the street towards the train, carrying his little suitcase.
Like other families, we received a postcard from Aron from Drancy. Written in Polish in tiny cursive script, the message from Aron told my mother not to worry. The card remains one of my mother's few possessions from that time.
After the war, my mother and I made a new life in Sydney. She worked hard and struggled. In time we enjoyed a high standard of living. My mother had come to Australia hoping that Aron would find his brother, Max, who had arrived in Sydney before the war. She waited and cried. She never re-married and suffered.