Heroism & Bravery in Lithuania 1941 - 1945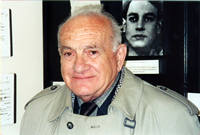 written by Alex Faitelson
Photo: Jean-Claude Elias
Edited by Gefen Books, translated from Hebrew by Ethel Broido.
This text can be read on the back of the book.
Lithuanian Jewry was dying .. but it fought back.
Half a century has passed and Alex Faitelson has presented us with his personal account of the Jewish underground. Its unusual beginning, its development and continued operations were successful in spite of the forces surrounding it.
The author describes their legendary escape from the Ninth Fort in Kovno and their joining the Soviet Partisans only to find anti-Semitism... but still fighting on. He pays tribute to his comrades-in-arms, to the woman he loved, and to the people who were not saved.
Alex Faitelson received the "Isaac Zandman Prize in Literature" for the original Yiddish edition of "Heroism and Bravery in Lithuania 1941-1945" from the Federation of Partisan Soldiers.
---
© Éric & Dominique Blum - echo date("j M Y", filemtime($DOCUMENT_ROOT.$PHP_SELF)) ?>